Walnut 220mm
Model: QC-BP-W220mm | Date:2013-06-20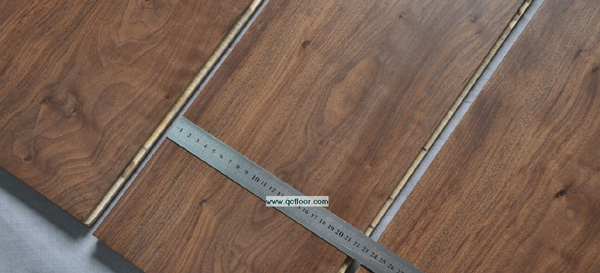 ::Description::
Model
:
QC-BP-W220mm

Size(L*W*H): 1860*189*15(4)mm, 1900 X 220 X 20(4)mm
Thickness of top layer: 2mm,3mm,4mm
Lacquer: UV treffert finish
Edge: Bevel, micro-bevel, square
Joint: Tongue and Groove(T&G)
Wood species:
American black walnut

Latin: Juglans nigra L
Family: Juglandaceae
Origin
:
USA,etc
.

Wood Properties:
The sapwood of walnut is creamy white, while the heartwood is light brown to dark chocolate brown, occasionally with a purplish cast and darker streaks. The wood develops a rich patina that grows more lustrous with age. Walnut is usually supplied steamed, to darken sapwood. The wood is generally straight-grained, but sometimes with wavy or curly grain that produces an attractive and decorative figure. This species produces a greater variety of figure types than any other;
It dries slowly, and care is needed to avoid kiln degrade. Walnut has good dimensional stability;
Its density: 0.81-0.93g/cm3;
Walnut is a tough hardwood of medium density, with moderate bending and crushing strengths and low stiffness. It has a good steam-bending classification.
Main Uses:
Furniture, cabinets, architectural millwork, doors, flooring, paneling, and gun stocks. A favored wood for using in contrast with lighter-colored species.
Availability:
Reasonable availability with regional limitations.