Golden Teak Decking
Model: QC-DK-TK | Date:2013-06-21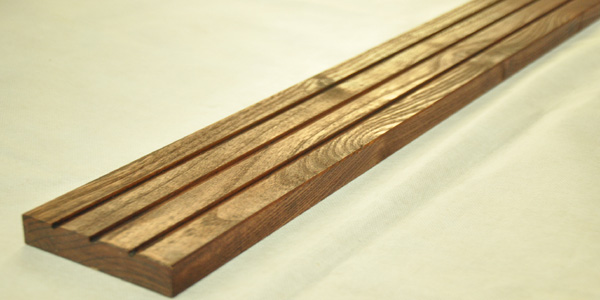 Model:QC-DK-TK
Size(L*W*H):910 X 120 X 18mm

Structure: Solid wood One Piece
Lacquer: Natural oil
Edge: Micro bevel
Surface:
Anti-slip groove pattern

Wood species: Black Locust
Color: Golden Teak
Packing: 8pcs/box, 6pcs/bundle, 50 bundles/pallet;
Loading: 700-1200sqm/20'FCL

Wood description:
It's gorgeous material that not only is it tough (second only to osage orange as the toughest native wood) and resistant to moisture (much better than white oak) and rot (way batter than cedar). Black locust is tougher than hickory, which is tougher than hard maple, which is tougher than oak. I have gotten it for only slightly more than the price of oak.
Black Locust decking material should be air-dried at least six months prior to installation. Due to its propensity to "move" when first milled, fresh cut wood needs to "relax" into its stress-free environment.

Notes:
Wood contains tannic acid which, after a time, can leak out and discolour the sub-floor. Never lay wooden decking on a surface where it would matter if this happened.
Southern yellow pine is a popular soft wood, pale in color and easy to work with. When treated for outdoor use with arsenic-free treatment, it resists rot and termites.

Application:
Suitable for bathroom, balcony, interior room, courtyard, garden, swimming pool, seaside, etc.

Care instructions:
Clean: With a mild soapy solution.
Maintenance: With simple, regular maintenance your floor decking will last longer. Colour changes, small cracks and a dry surface are signs that it is time to re-glaze.

Feature:
High performance of anti-corrosion, real wood natural, Authentic Indonesian Origin, Durable, Lasting 20 years warranty, Outdoor Oiled, High taste High end Market.