Solid Ash
Model: QC-HW-AS | Date:2013-06-21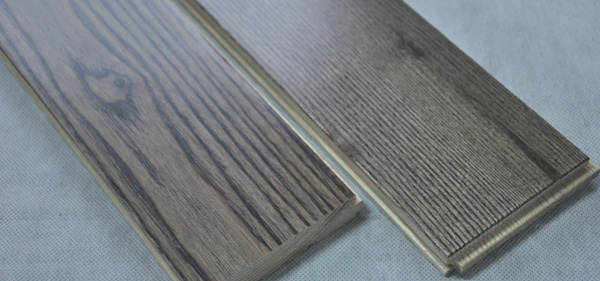 Name: Ash Wooden / Real Wood / Hardwood / Solid Wood Flooring

Size: 300-1200 X 83 X 18mm
300-900 X 90 X 18mm
300-900 X 125 X 18mm

Joint: Tongue & groove
Surface: UV lac/oil, smooth/brushed
End: micro bevel
Color: Natural color, or color-stained;
Loading: 1200m2/20'FCL;
1800m2/40'FCL;
MOQ: Negotiable

Other requirements:
Smoked, handscraped, color-stained, multi-ply, other sizes, unfinished, etc are workable

Wood species: Ash
Latin: Fraxinus spp.

Wood Properties:
The sapwood of an ash tree is cream-colored to almost white, and its heartwood is tan to dark brown. The grain pattern in each type is always apparent, though.
A similar wood to oak that's even harder is ash. Baseball bats and garden tool handles are usually made from ash, just to give you a sense of how hard it is.
Ash holds stain colors well, and since light-colored ash floors made from ash sapwood are more desirable, most ash floors tend to be lightly stained. A light color and a consistent grain pattern drive the cost of this type of floor. And as is the case with all woods, it's available in a variety of grades.

Ash wood has been a staple in home flooring and furniture for centuries throughout North America and Europe. This is because it offers several important advantages over other woods. Ash ranks high in durability and resistance; flooring made from it ordinarily holds up well against long term wear, accidental damage, and moisture. Ash is regarded as a shock-resistant material, making it a comfortable option for home installation. Its elasticity is easy on the body. In addition, the wood rarely degenerates over time due to shrinkage from heat as well.

Features:
Ash wood naturally glows with a creamy, white to brown hue, preferred by designers and home owners for the warmth and light it bestows on a home.
Additionally, ash wood floors are peppered with straight lines and spots that can make rooms seem more spacious. Ash wood's ability to take most stains and finishes well gives it further positive marks.