Solid Ipe
Model: QC-HW-IP | Date:2013-06-21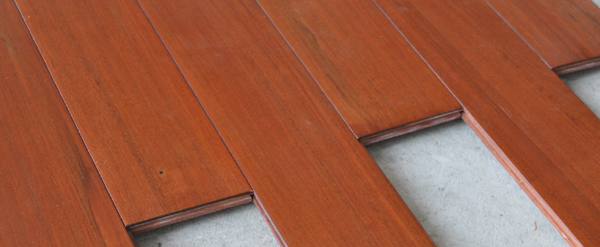 Name: Ipe Wooden / Real Wood / Hardwood / Solid Wood Flooring

Size: 300-1200 X 83 X 18mm
300-900 X 90 X 18mm
300-900 X 125 X 18mm

Joint: Tongue & groove
Surface: UV lac/oil, smooth/brushed
End: micro bevel
Color: Natural color, or color-stained;
Loading: 1200m2/20'FCL;
1800m2/40'FCL;
MOQ: Negotiable

Other requirements:
Smoked, handscraped, color-stained, multi-ply, other sizes, unfinished, etc are workable

Wood Species: Ipe
Latin: Tabebuia spp.
Wood Properties:
Ipe refers to a cluster of trees from the Bignoniaceae family. These trees have similar physical properties. Ipe grows from Brazil to continental tropical America as well as some areas in Lesser Antilles. A lot of people are not familiar with ipe. Some North American manufacturers will refer to ipe as Brazilian walnut because it has similar properties even though it is different. Because it is such a dense wood, it has been used for industrial applications like railway ties and heavy truck bedding.

Certainly the fact that it has a Janka rating of over 3600 making it one of the densest woods that is typically seen in the hardwood flooring market, suggests that it would be the perfect high traffic floor. In fact it has a long history of use in the industrial world as the ideal product for railway ties and heavy truck bedding for just this reason. So the wear a ipe floor would get in your home is relatively insignificant. Most daily traffic would have a hard time leaving a scratch. It is ideal for homes with large dogs or rough kids.

Features:
Ipe is one of the strongest and densest woods available for flooring applications. It is a great floor for heavy foot traffic. Ipe will hardly develop wear marks. If you have large dogs or children, ipe is a good wood floor choice. Even with a light finish, most spills will not penetrate the wood and will just sit on the surface. Ipe has a fairly straight grain. Sometimes this wood can also look very similar to teak. It resists decay and termite attack. It is a very fire resistant wood. The wood varies from a light golden brown with olive green accents to reddish brown to darker brown streaks.