Solid Walnut
Model: QC-HW-WT | Date:2013-06-21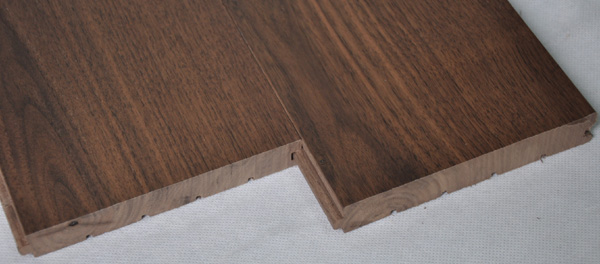 Name: Walnut Wooden / Real Wood / Hardwood / Solid Wood Flooring

Size: 300-1200 X 83 X 18mm
300-900 X 90 X 18mm
300-900 X 125 X 18mm

Joint: Tongue & groove
Surface: UV lac/oil, smooth/brushed
End: micro bevel
Color: Natural color, or color-stained;
Loading: 1200m2/20'FCL;
1800m2/40'FCL;
MOQ: Negotiable

Other requirements:
Smoked, handscraped, color-stained, multi-ply, other sizes, unfinished, etc are workable

Wood species: American Black Walnut
Latin: Juglans genus

Wood Properties:
Its tree is extremely harge adn well distributed. Although they are primarily concentrated in the Northern hemisphere. Walnuts are also found growing in Africa and South Asia.
It's three times more durable than oak. It varies in color naturally. The tree's heartwood is a deep chocolate brown with purple overtones. And the sapwood is nearly white.
The highest grade of walnut flooring is cut from heartwood. The colorwill continue to darken naturally as the foor ages.
Walnut has a straight, even grain fro the most part. Burl patterns may appear where a limb grew out from the trunk. This beautiful patterned wood is usually reserved for making furniture. But it can sometimes be found in walnut flooring.
Walnut is a strong wood with high dimensional stability. It's less sensitive to variation in heat and humidity than many other woods. Walnut flooring can even be installed over radiant heating systems.

Feature:
Walnut solid wood flooring is unparalleled when it comes to its durability and hardness. It's a great way to add beautiful detail to your home decor.While the planks produced are of excellent quality, the material also doesn't lack appeal and elegance in style – simple yet classical appearance.
Walnut flooring is usually air-dried instead of kiln-dried because te color shows up better that way. Since the wood has a naturally rich color, it does not need to be stained.