TEAK Flooring
Model: QC-HW-TK-NT | Date:2016-07-04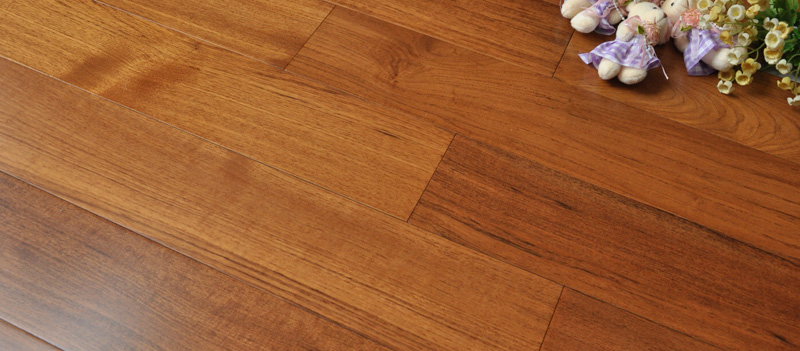 Model:QC-HW-TK-NT
Size(L*W*H): 300-1200*123*18mm
Lacquer: UV treffert finish
Edge: Bevel, micro-bevel, square
Joint: Tongue and Groove(T&G)
Surface: Smooth UV lac
Structure: One Piece Solid Wood
End: micro bevel
Grade: Select AB
Color: Natural;
Loading: 1100m2/20'FCL;
1800m2/40'FCL;
MOQ: Negotiable
Other requirements:
Smoked, Carbonized, color-stained, brushed, Sawn-mark, Fire-burn, multi-ply/3-ply, other sizes, unfinished, etc are workable
Wood species: Burma Teak,Teak Jati
Latin name: Tectona spp.
Family: Verbenaeae
Origin:Burma, Thailand, Indonesia, etc.
Wood properties:
The rare beauty of teak, its rich golden brown luster, decorative grain and unique properties of strength and resistance to wear have made
teak one of the world's most valuable and versatile hardwood;
teak can withstand the harsh effects of sea water and broiling sun and does not split, twist, crack or warp because of natural oils and
remains stable even under months in the hot sun or submersed in ocean water;
Its density:0.64g/cm3;
Teak is not a tropical rainforest species and grows sparsely in mixed deciduous forests. Teak from other regions of the world cannot match
true Burma Teak. Burma Teak is truly a gift of nature for human being.
Main uses:
marines, aircraft carriers, cruise ships, refined yachts, outdoor decks, parquet flooring, furniture, high-taste interior steps, doors,
building components, bridge, carvings,etc.
Availability:
Readily available.